Posted by DrNatura® on May 29th 2023
Are you looking to increase your fiber intake to better support your health? With the UniFiber Fiber Supplement, adding insoluble fiber to your diet is easier than ever. Many of us struggle to get an adequate intake of fiber through food alone. That's why incorporating a quality fiber supplement into your routine can provide a great assist.
Summer is just around the corner, so it's the perfect time to share some of our favorite high-fiber recipes to enjoy during the summertime. Before we dive into the good stuff, we're going to reveal why fiber is important for your health and explain the difference between types of fiber. Get ready for a day's worth of mouthwatering, healthy meals!
Why is Fiber Important?
Fiber, a non-digestible carbohydrate, is an essential part of a well-rounded diet. It's most commonly found in whole foods like fruit, vegetables, nuts, and whole grains. While fiber is perhaps best known for its ability to prevent or relieve constipation, it also helps to optimize our gut health and regulate our blood sugar levels.
The sad truth is that many Americans don't consume an adequate amount of fiber each day, so they miss out on the incredible benefits that proper fiber intake can provide to our bodies. Fiber helps to foster a healthy and happy gut microbiome, keeps us full for longer, supports regular bowel movements, balances cholesterol levels, and reduces the risk of diseases.
If you aren't getting enough fiber through the food you eat, adding a fiber supplement to your meals is an incredible way to increase your intake and enhance your health. As a general rule of thumb, men should aim to consume around 38 grams of fiber per day and women should aim to consume roughly 25 grams per day.
Insoluble Fiber vs. Soluble Fiber: What's the Difference?
There are two main types of fiber that differ based on water solubility. Insoluble fiber does not dissolve in water, while soluble fiber dissolves in water and can be metabolized by our gut bacteria. Both types of fiber can be found in food and are important contributors to our health, but they each boast different health benefits.
Soluble fiber is known to help the body improve blood glucose control and reduce blood cholesterol, reducing the risk of type 2 diabetes. Insoluble fiber, on the other hand, makes it easier to pass stool by attracting water into it, promoting bowel health and supporting insulin sensitivity. Health experts recommend getting around one-fourth of your dietary fiber intake from soluble fiber and the rest from insoluble fiber.
Most of the fiber supplements you'll find on the market are made with psyllium husk, a source of soluble fiber, and must be consumed quickly either on their own or mixed into water or juice. Because UniFiber® is a wholly insoluble fiber supplement, it doesn't require water to get the job done and therefore doesn't cause the gas or bloating often associated with fiber supplements. As an ultra-fine, tasteless powder, UniFiber® can be added to any of your favorite recipes without changing the flavor you know and love.
A Full Day of High-Fiber Meals with UniFiber®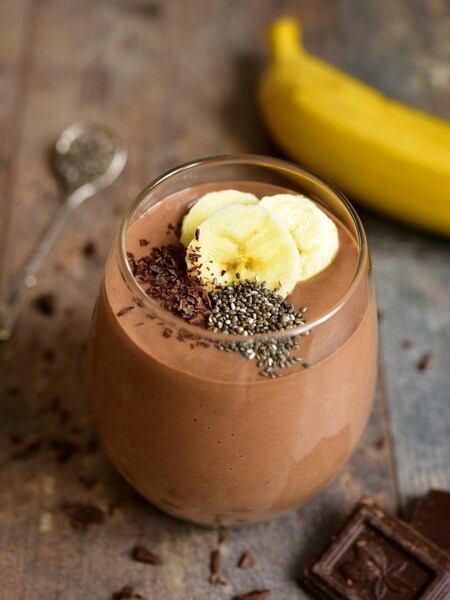 Breakfast | Chunky Monkey Smoothie
There are few combinations more delicious than the classic 'chocolate, banana, and peanut butter' trio. If you're looking for a high-fiber, protein-packed way to start your day, this crave-worthy breakfast smoothie is a stellar choice. Oh, and the best part? It's beyond easy to whip up, making it a great option whether you're enjoying a slow morning or rushing out the door to work.
What You'll Need:
● 1 cup of filtered water
● 1 scoop of chocolate protein powder
● 1 banana, chopped
● 2 tablespoons of natural peanut butter
● 2 tablespoons of oats
● 1 tablespoon of UniFiber®
● 1 handful of ice cubes
How to Make:
● Add your smoothie ingredients to a blender or food processor and blend until creamy.
● Enjoy on its own or with the breakfast sides of your choice.
Lunch | Summer Pasta Salad with Creamy Lemon Dressing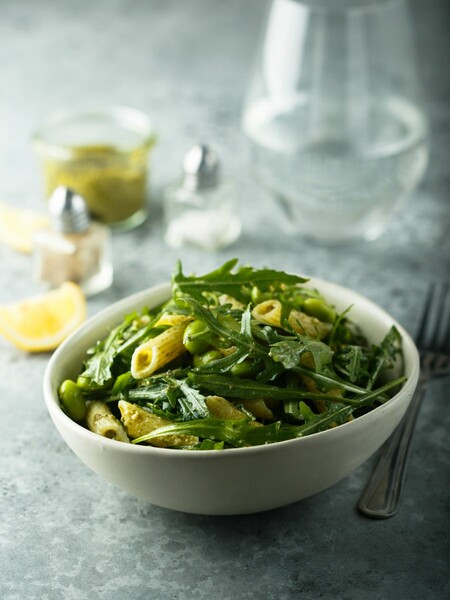 This vibrant, healthy pasta salad is packed with fresh flavors and enhanced with a sneaky dose of insoluble fiber for added nutritional benefits. Whether you're hosting a pool day with loved ones or looking for an easy meal prep recipe, this 30-minute pasta salad guarantees to please. It's bursting with fresh summer vegetables and tossed in a delightfully creamy (high-fiber) salad dressing you won't be able to get enough of.
What You'll Need:
● 1 lb. curly pasta (like rotini or fusilli), cooked al dente
● 1 cup arugula
● 1 cup cherry tomatoes, halved
● 1 cup green peas
● ½ cup red onion, finely chopped
● 3 tablespoons fresh chives, chopped
● 3 tablespoons fresh dill, chopped
● ⅓ cup plain Greek yogurt
● ½ cup extra-virgin olive oil
● 3 tablespoons fresh lemon juice, plus 1 tablespoon lemon zest
● 3 tablespoons UniFiber®
● 1 teaspoon kosher salt
● ½ teaspoon black pepper
How to Make:
● In a small bowl, combine Greek yogurt, olive oil, UniFiber®, lemon zest, lemon juice, salt, and pepper. Whisk to thoroughly combine and set aside.
● Add all other ingredients to a large bowl, then pour the salad dressing on top and combine. Cover and refrigerate for 30 minutes to allow the flavors to come together or enjoy right away.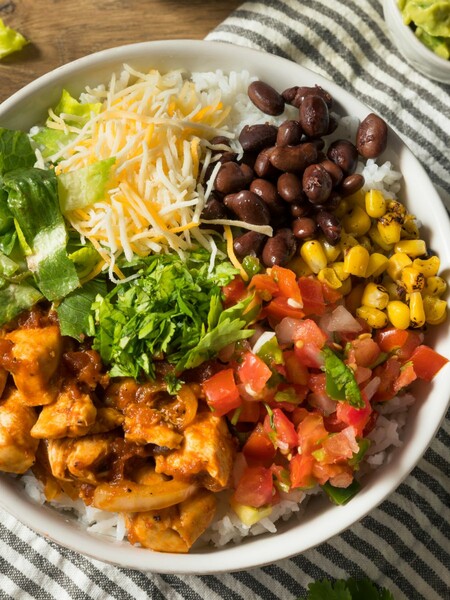 Dinner | Chicken Burrito Bowl with Avocado Crema
This mouthwatering chicken burrito bowl gives Chipotle a run for its money and is bound to become a weekly staple in your home this summer. Each glorious bite is loaded with protein, heart-healthy fats, and plenty of fiber thanks to the zesty avocado crema. You can prep your rice, chicken, and crema up to 48 hours in advance if needed, making it a fantastic option for busy weeknights. Tasty, healthy, and easy to make? Yes, please!
What You'll Need:
● 1 cup basmati rice or cauliflower rice, cooked
● 1 cup green leaf or romaine lettuce, chopped
● 1 cup grilled chicken breast, cubed
● ½ cup black beans
● ½ cup cherry tomatoes, halved
● ¼ cup frozen corn, thawed
● ½ small red onion, thinly sliced
● Small handful of shredded cheese (optional)
● 1 ripe avocado
● ½ cup plain Greek yogurt
● 2 tablespoons fresh lime juice
● 2 tablespoons fresh cilantro
● 2 tablespoons UniFiber®
● ¼ teaspoon kosher salt
● ¼ teaspoon garlic powder
How to Make:
● To a blender or food processor, add avocado, Greek yogurt, UniFiber®, lime juice, cilantro, salt, and garlic powder. Blend until creamy, then set aside.
● Divide rice and lettuce into two serving bowls as the base. Arrange cooked chicken, black beans, tomatoes, corn, and red onion on top of each bowl.
● Top each burrito bowl with a hearty drizzle of avocado crema, then enjoy.
Shop DrNatura UniFiber® to enhance your diet with insoluble fiber that seamlessly blends into all of your favorite soups, smoothies, sauces, and more.
Disclaimer: This information is only intended for educational purposes. These claims have not been examined by the Food and Drug Administration, and DrNatura® products are not intended for the use in treatment, diagnosis, or prevention of any disease. As with any health-related medical information, it is always preferable to check with your personal doctor since they are better qualified to provide you the best advice. They are the ones who are most familiar with your medical background. Our advice, ideas, or suggestions shouldn't be used in place of professional medical advice, diagnosis, or treatment. When you have any questions, never hesitate to seek your doctor or another skilled healthcare professional for advice.